CIAO A TUTTI TUSCANY RETREATS
with Weatherly Stroh and Lizzie Larock
Contact me to join the waitlist and get VIP notifications when we are announcing new retreat dates and locations.
Join Us In Tuscany
It's time to download that Italian language app, watch Under the Tuscan Sun one more time, bust out those art supplies collecting dust in the corner, renew your passport and save your spot in the Ciao Tutti Creativity Retreat with Weatherly Stroh and Lizzie Larock.
September 30th-October, 7th, 2023 - Sold Out
October 9-15th, 2023 - Sold Out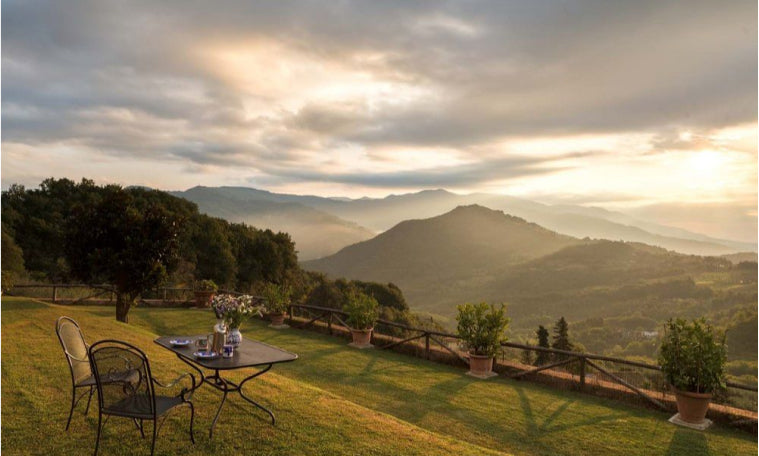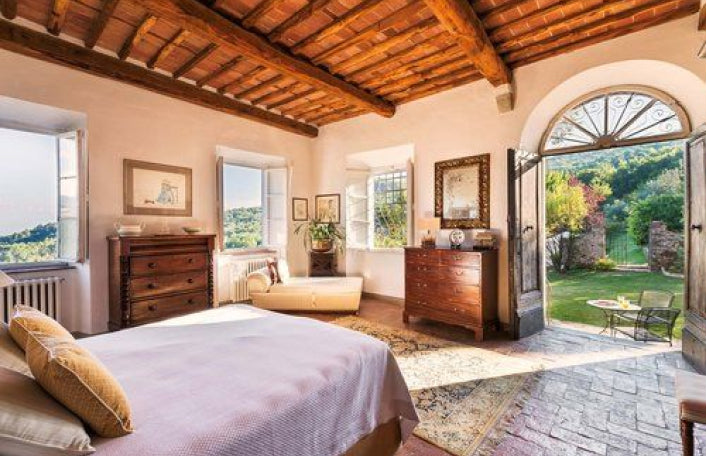 Inspiring, Relaxing and Nourishing
This is your invitation to a 7-night creativity retreat at Villa Berti, a 17th Century villa in the hills above Lucca, Tuscany from September 30 - October 7, 2023.
We have an extraordinary week planned in the Italian Countryside that you do not want to miss.
Are you drooling, yet, just thinking about spending this kind of relaxing, inspiring, nourishing week in Lucca, Italy with us?
If You've Been Craving a Getaway With Creative, Funny, Warm & Welcoming People?
in Tuscany, then put down that biscotto and save your spot before they all book up (because this is an intimate retreat and our spots will fill up faster than a Ferrari).
Full disclosure, this is not a Ferrari, but it is the adorable Italian sports car of our villa hosts!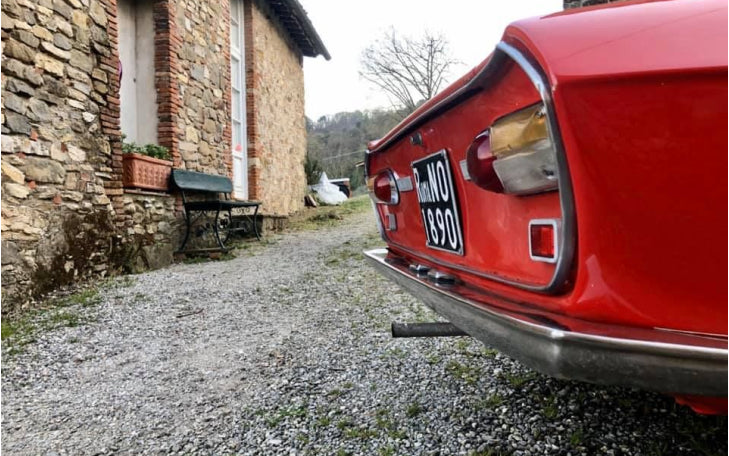 Picture Yourself Waking Up Here...
...for a relaxing, fulfilling and fun week of plein-air and gouache painting workshops with artist Weatherly Stroh; creative photography, writing or mindfulness/positive psychology workshops with coach/photographer/writer, Lizzie Larock; yoga classes overlooking the Lucca hillside; pasta-making class with our Italian chef, Fabrizio Magnani, and delightful excursions and passeggiatas (leisurely strolls) around quaint Italian villages with our host, Benham Gooder.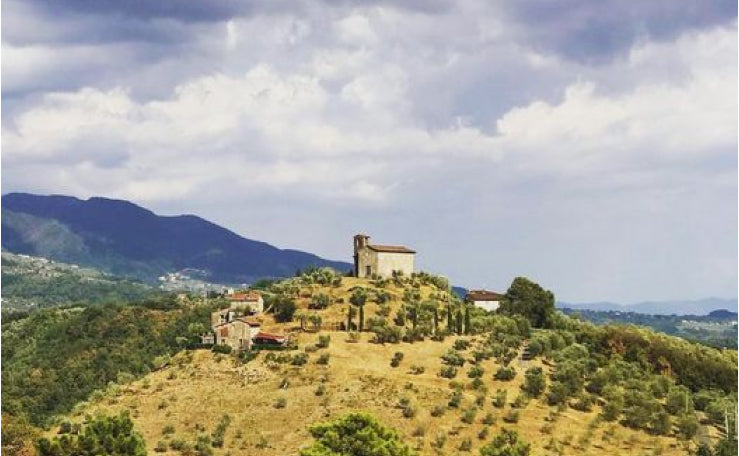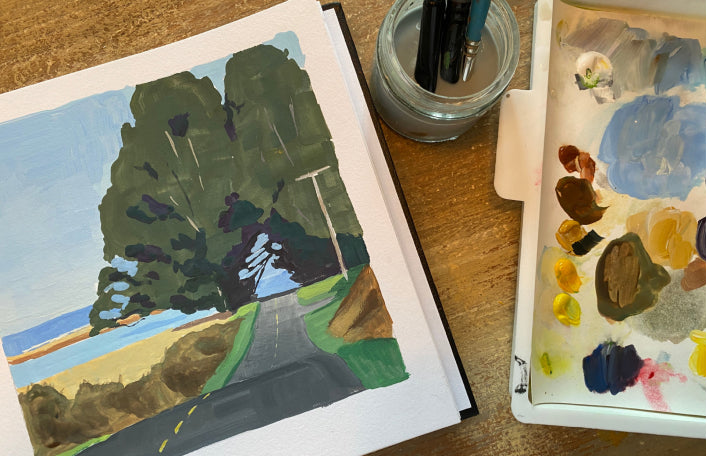 Painting
In the painting & sketching workshops with Weatherly, you'll learn how to bring a landscape to life either in your sketchbook or on an easel (we supply both!).You'll primarily work with gouache, the vibrant, versatile, quick-drying paint with stunning opacity that's perfect for plein-air and travel art.
If you've always wanted to paint or it's been a few decades since you've held a paintbrush, our Tuscan backdrop is the perfect place for you. You do not need any experience to enjoy this. Permission to play! You will learn the basics of color, charts, mixing and simple compositions while working with a creatively forgiving and fun medium.
If you're an advanced painter, you will have support from Weatherly to go beyond the basics and let your creative side run wild with Italian inspiration. She'll be there to teach you, encourage you and inspire you.
Photography & Writing
In Lizzie's photography and writing workshops, you'll learn how to be more curious, present, joyful and in awe much more often. You'll learn the art of iPhone photography and you'll have opportunities to play with DSLR photography, as well and you'll know how to actually work all the buttons on your iphone!
The best camera is the one you have with you making the art of photography one of the most accessible art forms.
The writing workshops will further your creative endeavors just giving you reflection time to see your life in a whole new way.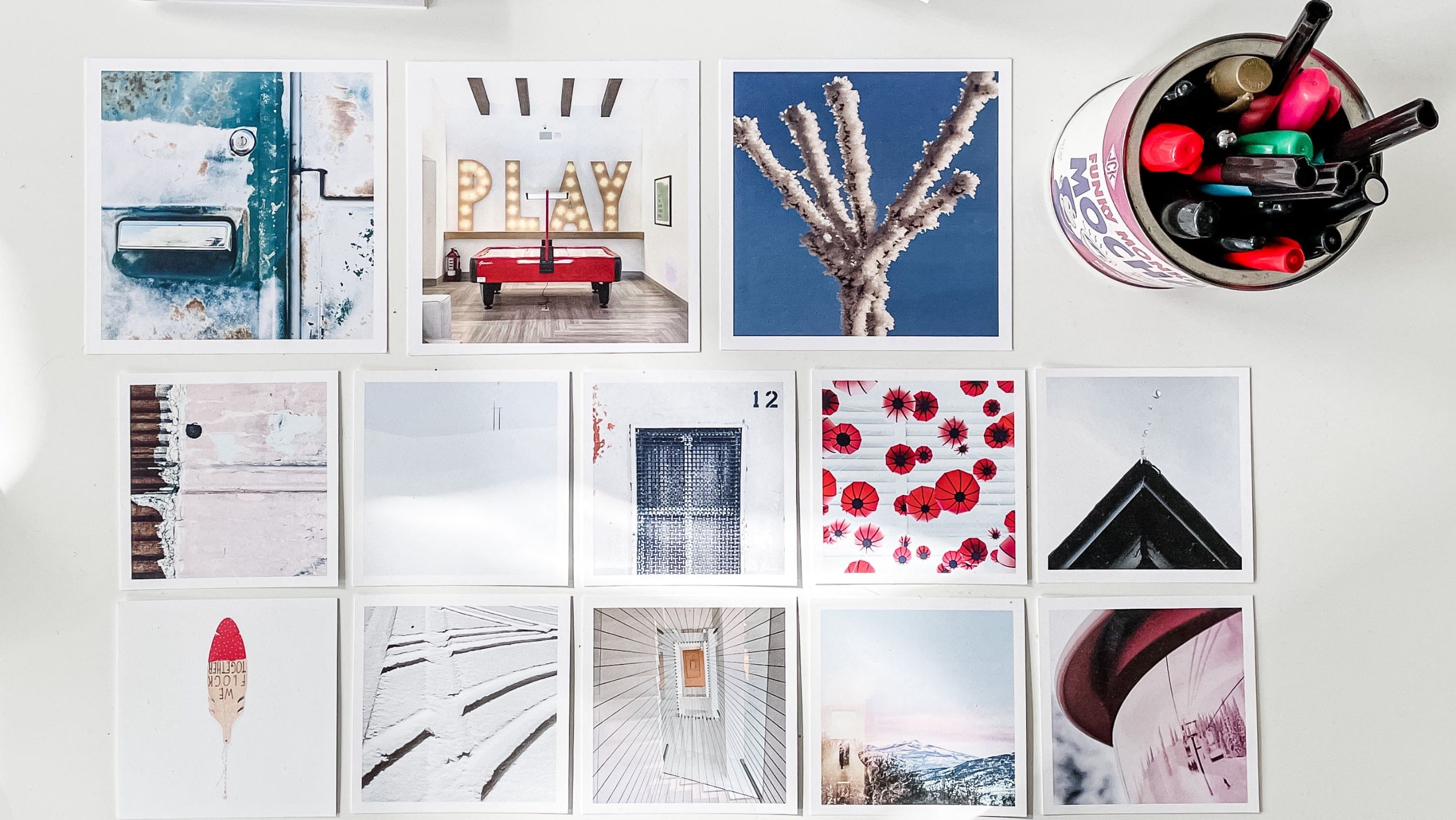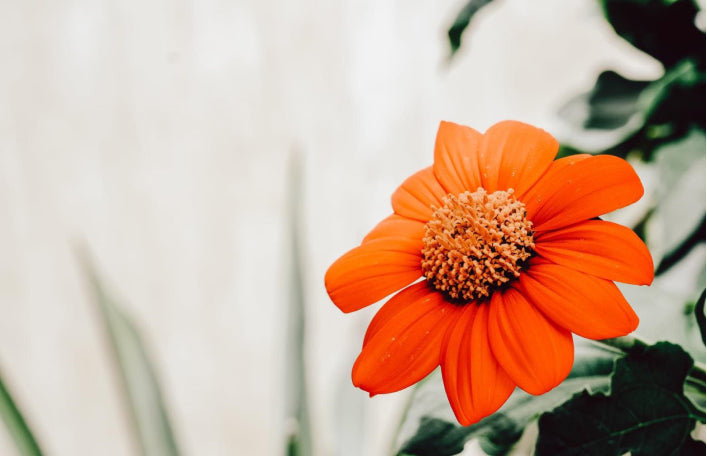 The Art of Slowing Down and Savoring
You'll be fluent in the art of slowing down and savoring by the end of this retreat with plenty of downtime for la dolce far niente (translation: the sweetness of doing absolutely nothing).
While the relaxation of most vacations rubs off at the airport returning home, at this retreat, you'll learn the positive psychology and wellbeing tips to thrive long after you're back to the busyness of daily life.
Excursions Into Tuscany, Yoga, Cooking Class, Walks and More
While it's tempting to never leave our gorgeous villa, we have two excursions into Tuscany planned, along with a flavorful cooking class at the Villa with our own private Italian chef, yoga classes, an Italian lesson or two and more!
The Retreat Itinerary
Days 1: Arrival & welcome dinner
Days 2-3: Morning yoga, casual breakfast, creativity workshops (mix and match choices of studio painting, plein-air painting and photography), al fresco lunch, afternoon open-studio time, enjoy plein-air painting, photowalks, journaling, hikes, reading poolside or in the library, or just enjoy la dolce de far niente (the sweetness of doing nothing), then we'll gather back, as a group, for evening apertivo & games at sunset and dinner in the cozy Tuscan kitchen with Chef Fabrizio.
Day 4: Day trip to Pietrasanta. We'll visit this creative gem and enjoy a lovely lunch in this thriving artist community.
Day 5-7: Morning yoga, more creativity workshops, similar plan to days 2-4, afternoon trip to stroll the town and local shops of Lucca with dinner out on the town at a local Lucca restaurant one evening.
Day 7 or 8 (depending on which retreat you attend): breakfast, goodbyes & departure
Buen Appetito!
Breakfast is casual, lunch and dinner are decadently prepared by our private local Italian chef, Fabrizio Magnani.
There's even a homemade pasta making cooking class planned for one of our evenings with Chef Fabrizio and an outdoor forno brick oven pizza gathering planned (probably not the vacation to cut out carbs!).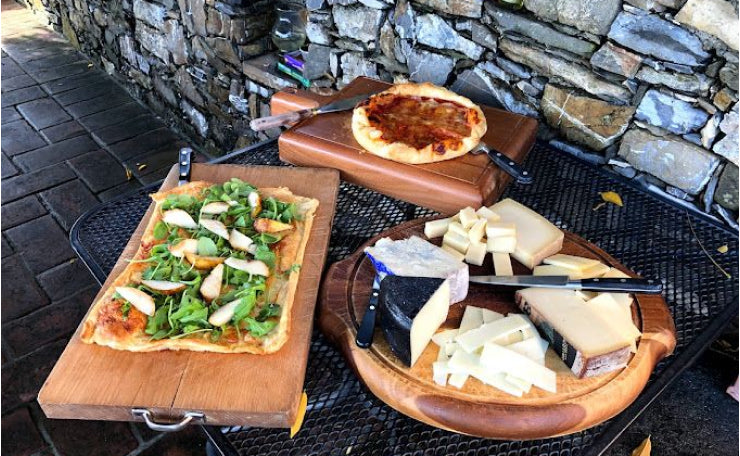 About Lucca & Our Tuscan Excursions
We've got two group excursions on the agenda to explore this stunning region.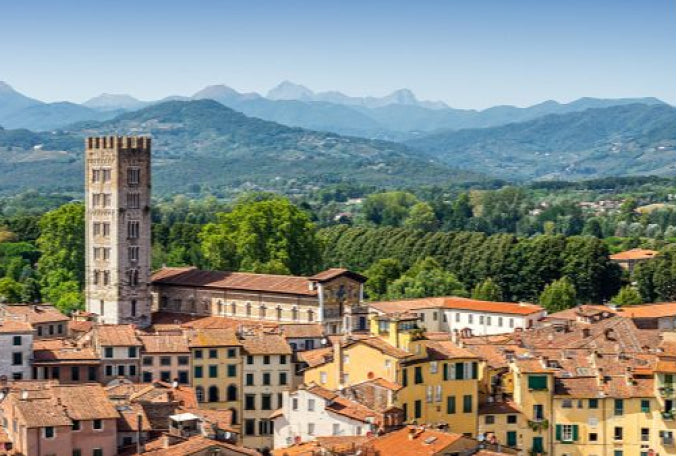 Walking Tour of Lucca
Enjoy a day exploring the beautiful Medieval walled city of Lucca. One of Tuscany's absolute gems. We'll wander the maze of shopping streets, discover the Roman amphitheater, enjoy a caffe or gelato at the piazzas and enjoy lunch at a local trattoria. After lunch, walk or cycle around the walls or climb the famous Guinigi Tower and enjoy Lucca from above. Bring your sketchbooks or camera and spend the day being creative. You will be driven home for drinks and dinner at Villa Berti.
A Day At Pietrasanta
A Renaissance town near to the famous marble quarries of Carrara. Home to a thriving artistic community ever since Michealangelo stayed while selecting his marble for the David in Florence. We will visit a sculptor's studio and explore the beautiful center of the town and enjoy lunch in the main piazza.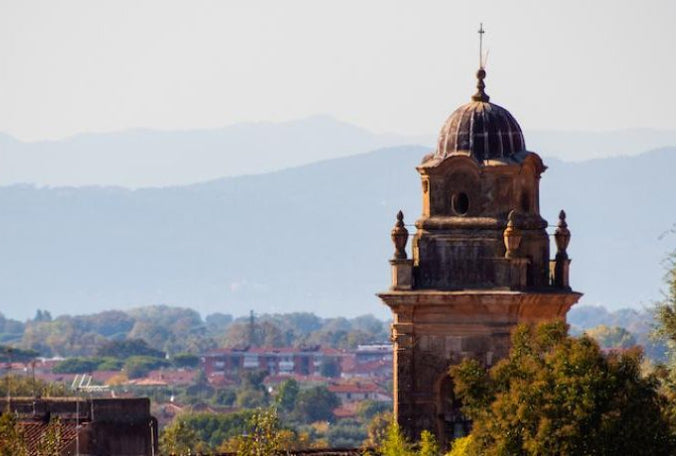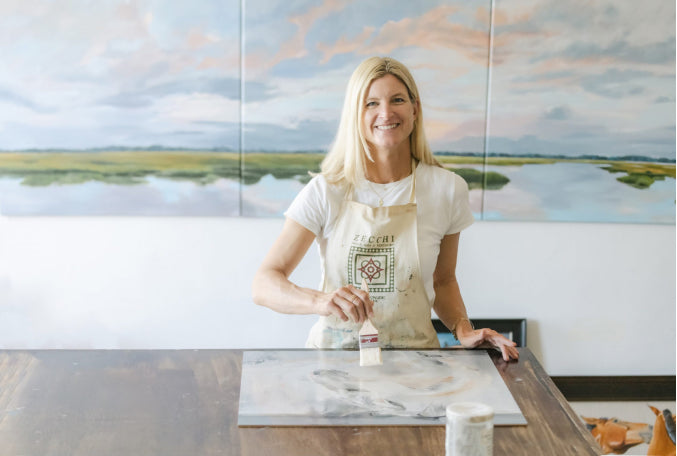 About Weatherly Stroh
Weatherly has been a full-time artist for 12 years now, but has had a lifelong fascination with Italy.
Having spent two semesters of college in Florence and a semester of graduate school outside of Perugia, she makes a point of returning each year to paint en-plein-air.
Sadly her Italian is terrible, though she is fully adept at ordering her favorite gelato with lots of hand gestures and a smile.
Her favorite time of the day is the siesta, a practice she brought home with her from college and has perfected in her Florida art studio when time allows.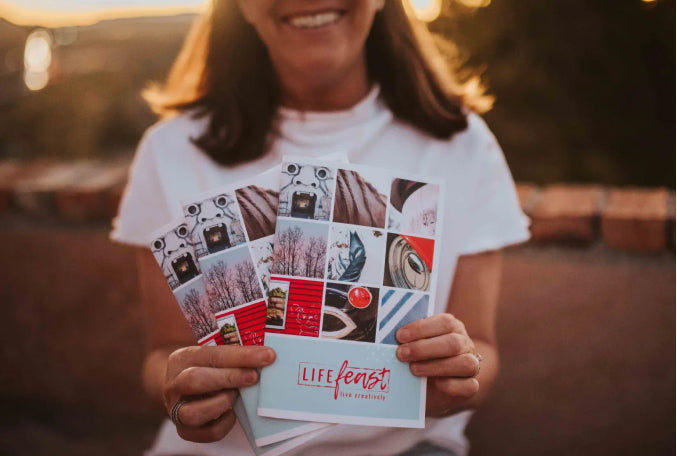 About Lizzie Larock
Lizzie is a writer, photographer and positive-psychology based coach.

She teaches creativity, writing and photography workshops through her signature Life Feast mashup of curiosity, awe, mindfulness, wonder & photography. She's taught everyone from 8 year olds to 78 year olds, CEOs, lawyers, accountants (and anyone else who doesn't think they are creative) how to find beauty in the tiniest details of everyday life.

Her creative retreats in Colorado have included everything from axe throwing to soundbath healing to making photo mantras out of alphabet soup.

Lizzie speaks French (not much help in Tuscany), but adores Italy, and considers herself a lifelong pizzatarian with an adoration of homemade pasta being a very close second in her well-fed heart!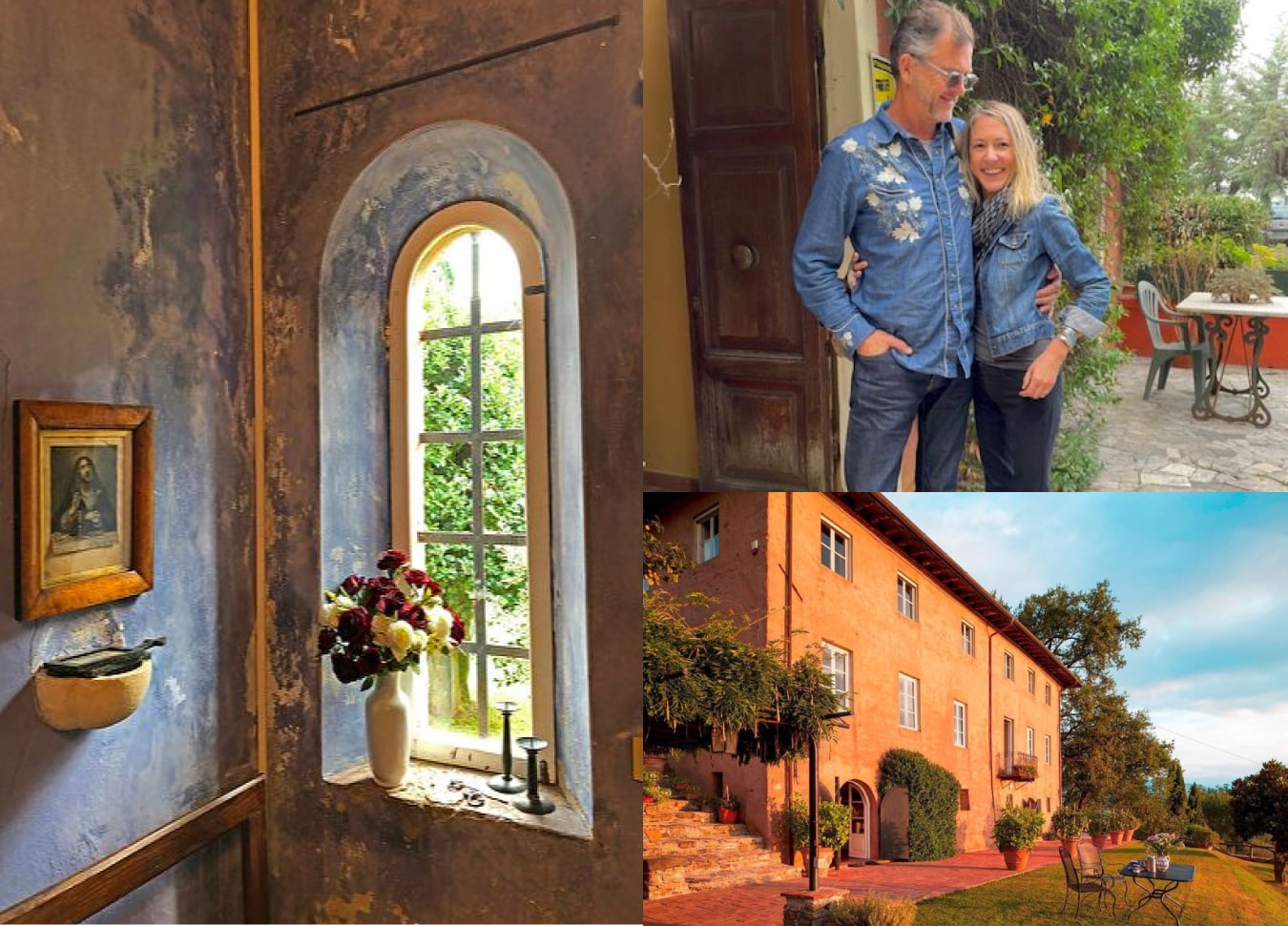 About Our Villa Hosts, Ben & Nicole Gooder
Ben Gooder is an award-winning feature film scriptwriter and documentary film producer. Nicole is an artist, originally from America. They divide their time between Italy and the UK.Ben realized his long held dream when he purchased Villa Berti from his family and began the restoration program.Nicole and Ben are proud to have restored Villa Berti into this incredible artist retreat and they take great pleasure in sharing their love for this place with visitors from around the world.
About Villa Berti
Up winding lanes of olive groves and on the hillside of the lush green Lucchese valley, this 17th-century villa and farmhouse have been in Ben's family for 20 years.
He's restored the buildings with the utmost care, creating the perfect atmosphere for creativity, cuisine and connection at our retreat.
There's an inviting drawing room with antique furniture and a baby grand piano and a library lined with books and cozy arm chairs for curling up with a favorite tome.
The pergola is a perfect spot for afternoon relaxation, and the terrace is a favorite spot for coffee, breakfast and serenades from local songbirds.
We'll be staying in both the comfy and beautifully appointed guest bedrooms in both Villa Berti and the adjacent farmhouse, Casa Rosini.
Frequently Asked Questions
Your non-refundable $1850 deposit reserves your spot at the retreat and can be made via credit card below.
Meals:
All meals are included for 6 full days of the retreat (breakfast, lunch and dinner), and evening aperitivi (wine, non-alcoholic beverages & light snacks). Arrival day, Sept 30, is a welcome dinner (no breakfast or lunch) and departure day, Oct 7, is a casual breakfast (no lunch or dinner). If you are dining out at a restaurant that isn't part of our planned excursions, you will need to cover that cost. 7-nights of
Accommodations: Our retreat participants will be staying in both the main house: Villa Berti, as well as the adjacent and quaint farmhouse, Casa Rosini. There are 7 bedrooms total for our retreat guests. 
6 rooms are reserved for single occupancy and the master bedroom is available for double occupancy, for a total of 7 rooms for our 8 retreat guests.If you would like a reduced rate on your accommodations, there are two rooms available in Casa Rosini with a shared bathroom. 
**Specific rooms cannot be reserved unless you are requesting one of the reduced rate rooms with the shared bathroom (and its available).
Excursions: 2 offsite excursions (including transportation) with two meals at local restaurants.
Creativity Workshops: All workshops offered by Lizzie and Weatherly: painting, photography, creative writing. One evening cooking class with Chef Fabrizio is also included. 
Supplies: Easels, yoga mats, and a few painting supplies (all will be supplied for you). You do not need to bring a fancy camera, either (smart phone is perfect for what we'll be doing), but if you want to bring a DSLR for the photography workshops, that's wonderful, too! There will be a few DSLR cameras available to borrow, as well.
Yoga: We will have optional group yoga classes on the Villa Berti lawn or in the art studio. This is also included in the retreat.
TOTAL PRICE:
$5,550.00/person (inclusive of accommodations and meals stated above).
$4900.00 for the single room with shared bath (only 2 available).
To reserve your spot at this gorgeous retreat, a non refundable deposit of $1850 is due upon registration. Your card on file will be charged 30 days later for an additional 1850.00. Your final balance of $1850.00 will be charged 30 days after the second payment or before July 30, 2023. All payments are non-refundable after July 30, 2023.

Because cancellations require us to fill the workshop on short notice, there are no refunds on the initial $1850.00 deposit.

If you cancel after the non-refundable date of July 30, 2023 and we are able to find participants to fill your canceled spot at full price, then you will receive a refund (less the initial $1850 deposit) within two weeks of the workshop's conclusion. All refunds are subject to a 4% processing fee. We recommend using trip insurance if you have concerns that you will need to cancel.
Casa Berti is located in the quaint Tuscan village of Lucca, Italy. It is 12 miles from Pisa and 50 miles from Florence.

Transportation from airports or other locations to Casa Berti can be arranged for you, at an additional cost from either Pisa and Florence airports). Cost is approximately $150/each way to Florence or Pisa airports.

If you will already be in Italy complimentary transportation can be arranged for you from the Lucca train station to Casa Berti (a 20-min ride).

Plan on arriving sometime before dinner on Saturday, September 30, 2023 and departing by 10am on Saturday, Oct 7, 2023.
You don't have to be a painter, a photographer, a writer or any kind of creative to enjoy this retreat. This retreat is designed to bring out the creative joy in EVERYONE! You just need curiosity and a craving to spend a week in Italy connecting to yourself and a group of wonderful people.
Airfare is not included

Trip insurance is not included

Meals or excursions or art supplies that aren't part of the retreat aren't included.

Transportation to and from Villa Berti is not included. A driver can be arranged for you from Pisa or Florence airports. It is approximately $150/each way to Florence or Pisa airports. If you are arriving at the Lucca train station, transportation can be provided.

Massage treatments are not included, but can be arranged for you at an additional cost and paid directly to the provider.
Accommodations for 7 nights at Villa Berti or Casa Rosini.

Painting, photography, writing and mindfulness workshops with Weatherly Stroh & Lizzie Larock

All meals including breakfast, lunch and dinners, snacks, wine and non-alcoholic beverages included (during aperitivi and dinner)
. One evening cooking class, as well.

Excursions to quaint neighboring Italian villages (group meals on these planned excursions and transportation also included).

Easels, yoga mats, painting supplies (all will be supplied for you). ***You do not need to bring a fancy camera, either (smart phone is perfect for what we'll be doing), but if you want to bring a DSLR for the photography workshops, that's wonderful, too!
$5550.00/person total. If you are interested in the reduced rate rooms with the shared bath and the 2 reduced rate rooms are still available, total/person will be $4900.00.
Just send an email to: lizzie@larockstarcreative.com or weatherlystroh@gmail.com and we are happy to answer your questions.
Total Retreat Price: $5,550
$5550.00 includes: 7 nights accommodations and meals at Villa Berti/Casa Rosini (including breakfast, lunch, apertivi, dinner (and wine/non-alcoholic beverages) and 6 creativity workshops (painting, photography, writing) + 1 cooking class + 2 offsite excursions:

A non-refundable deposit of $1850.00 is due at the time of booking.

Your card on file will be charged 30 days later for a second $1,850 payment. Final balance of $1850 will be charged 30 days later (or before July 30, 2023). Total amount for retreat is $5,550.

All payments are non-refundable as of July 30, 2023*. Initial deposit of $1,850 is non-refundable. See payment terms for details.
Join the Retreat Waitlist